Statistics
We have
651
registered users
The newest registered user is
stallgie
Our users have posted a total of
7794
messages in
1721
subjects
Ogden River Park
Dedication
Many of you have visited and used Crystal Wave, the new
feature on the Ogden
River off of Wall Ave. located
behind the WalMart. Many of you are also
aware that this is the beginning of a park being developed on the river as part
of a reclamation and restoration project.
If you don't know, you owe it to yourself and your community to learn.
The Utah Whitewater Club has been asked to help support the
new Ogden River Park
by putting our name on the wave section as a volunteer clean up group to help
maintain and keep it presentable. This
is something new and will be designed much like the highway signs and
responsible volunteers you see on some of our state highways. We have had some strong response so far. If you have opinions or ideas please let us
know by contacting a member of the UWC board.
The new park in Ogden will be officially
dedicated on Friday October 7th
including some festivities. If you have an interest, please come and help
support the dedication. We are asking
for volunteers for two different services:
First,
we need as many
volunteers as possible – Club, Community, Family, etc. to show up
Monday, October 3rd
to help
pick up, clean up, prune and generally get ready for the City celebration on
Friday. Although it would be nice to
know you are coming, you don't have to call, just show up with work clothes and
gloves and yard tools (pruners, saws) on Monday.
I understand there will also be an opportunity to help plant
and restore on Friday, from 10AM –Noon as part of the celebration.
Second, we need about
6 volunteers, with their boats and full regalia
to help guide as many as
150 participants and executives as they tour the river itself for about a mile
down to the park (class II water). These
people will also be helping keep this menagerie safe by example and
response. As part of the celebration,
this float will take place in the afternoon hours from 1pm to 5pm. Please let us know if you can or will be able
to help us out. Remember this is Friday,
a workday for some of us.
Anyone who can help by lending some equipment for this float
your efforts will be appreciated. We
need duckies, small rafts, SUPs, canoes, sit-on-tops, and the inherent
equipment to operate said equipment. I
am thinking we will need as many Lifejackets and pfd's as we can possibly
volunteer.
As part of the celebration, I understand there will be
music, booths, information, program and other festivities. I have heard the river is being bumped up to
about 400cfs for the occasion.
Lonny Selin
Utah
Whitewater Club
llselin@msn.com
801-913-4341



Posts

: 21

---

Paddling Since

: Year



Awesome! Any particular time Monday?
If anyone would like to go over there this evening, we could get a start on it, then surf the wave a bit.



Posts

: 731

---



I am passing through Ogden on Sunday. Will stop and do what I can.
Would enjoy some company... if anyone feels up to it / bored. (12-5pm) (EDIT: sorry, running a little behind. Leaving soon, won't get there till about 5.)

Laters

435 232 5383 text/call
DAVE



Posts

: 125

---

Paddling Since

: 09



Thanks for the help Dave! Great to get some of the bad thorn branches out of Rainbow Gardens.

Lonny, what time Monday? Let me know and I will be there. I could start mid-afternoon if anyone else can make it then. There are some eddies to clean out right above the new wave. There is also some brush on river right below the Lincoln street bridge, a block upstream of Wall, which would be good to prune back, for beginners floating that stretch. There is a big log under the Lincoln bridge (river left) to be aware of; probably won't get that one out.
There is a shopping cart pinned in the river above Washington, river right; would be good to get that out.

It would be fun to set some gates, if anyone is interested in having some gates to play with. Could set a few in the flatwater above the new Ogden wave. And/or, could work on 24th street (I didn't see any riff-raff swimming there today; I bet we would have less problems with gates there now).
Any interest in gates?



Posts

: 731

---



INTERESTED! I took a good hard look down there, Friday while I was dorking around, and there's potential for 7 or 8 gates just around the wave. Probably a good 11 or 12 utiliting the minor drop feature about 100 yards up river.

Not exactly olympic standard training material, but still semi technical and entertaining.



Posts

: 212

---

Paddling Since

: 2008



Brian, Bill,

If you ever want to plan a slalom event I have some gates in my garage. It would probably be best to put them up, then take them down soon afterward so they don't get lost.

I don't know if you were planning on hanging gates at the crystal wave but my 2 cents would be to hold off on doing anything during the city's big ribbon cutting. They're probably pretty sensitive to how that area looks right now (through friday) and they might not appreciate stuff hanging from the trees.



Posts

: 36

---



Can anybody confirm the flow and what times the flow will be available? Thanks



Posts

: 8

---

Paddling Since

: 2000



In addition, I agree to hold off until after the 'ribbon cutting'.
And learning lessons from OPP, utilizing least expensive design as possible. Cheap/easily replacable materials and possibly utilizing trees for posts and such. here's a pssible design(if it works)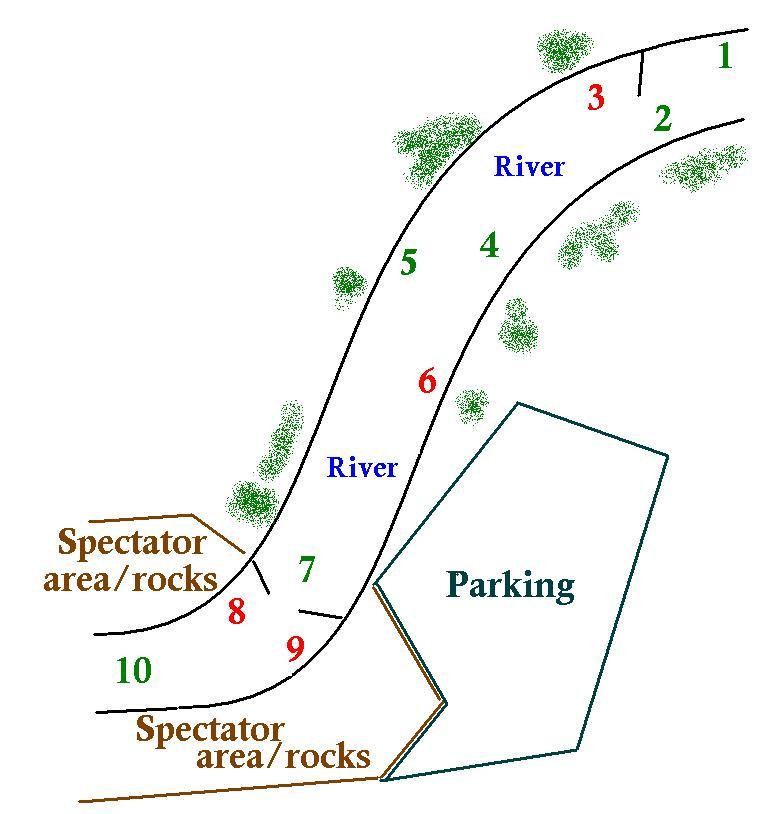 Short version would be gate 4 down. Just throwing it out there.



Posts

: 212

---

Paddling Since

: 2008



Thanks Bill, couldn't have done it without ya. Brought the dog, hung out with a friend, and cleared out some really choked up areas. Good times... and good CARMA!!!

Could still use a lot of work though people. Nudge, nudge




Posts

: 125

---

Paddling Since

: 09



---
Permissions in this forum:
You
cannot
reply to topics in this forum